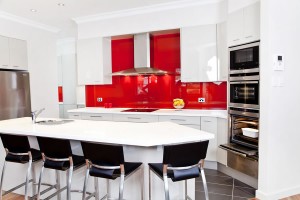 Visit our kitchen showroom in Gladesville and be amazed by how much kitchens have changed over the years and what choices are available to you.

Speak to one of our experienced designers in the showroom to discuss your needs as well as identify what is available to you. There are a great number of processes in the design process and final completion of your kitchen renovation but to make it easier we have narrowed it down into 4 main steps.
Step 1 - Kitchen Consultation
The first step to a successful kitchen renovation is to speak to a professional. There are a number of elements and products that will need to be put together to ensure the design and specification will suit your personal needs. You have the style of the kitchen to consider, the right appliances and layout that will suit your family's needs and of course what finishes and colours will suit your home.
Step 2 - Kitchen Design
We're happy to visit your home and establish from our meeting your own specific requirements. This will enable us to design a beautiful and unique kitchen that will meet your individual needs. Our experienced designers will present to you a detailed design . This professional service will help you clearly understand how your kitchen will operate and look.
Step 3 - Kitchen Manufacture
Kitchen Biz kitchens are all manufactured to order in a state of the art factory in Sydney which allows us to ensure the very best quality is maintained, delivered on time and on budget. We offer a 10 year written warranty on all our kitchen cabinetry while also offering a lifetime warranty on all our door hinges and drawer runners.
Step 4 - Kitchen Installation
Your kitchen project will be check measured and fully project managed to ensure that all the work carried out by Kitchen Biz meets our own high standards and is done on time, we want your kitchen project to cause as little disruption and stress as possible.
Every kitchen we design is not only unique & stylish, but also sturdy, practical and user friendly. Let our kitchen designers help you put all the right ingredients together to create the ideal kitchen for you and your home..